It is always an honor to award a worthy contestant the status of Title Winner during Starbound's National Finals Competition. Along with being crowned as a Title Winner, having your picture in our National Advertising and in our programs for the entire Regional Season, ALL Nationals Title Winners will have the distinction of being invited to take part in Starbound's Ambassadorship Program.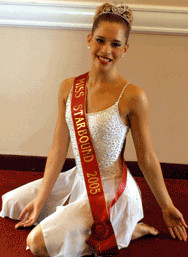 This program has been established to give Starbound's National Title Winners the opportunity to attend and take part in a Starbound Regional Competition. The Title Winners who participate are asked to wear their crown and sash throughout the event and to assist in all functions of that Regional Competition including assisting Judges and presenting awards.
It's an honor to be crowned a Starbound National Title Winner and with the Ambassadorship Program we hope that it will also be a learning experience.
Program Outline:
National Title Winners may choose any one (1) Starbound City on the Regional Schedule.
You must give Starbound four (4) weeks advance notice, in writing, as to what city you would like to attend along with the full names of those attending.
The National Title Winner will assist and work with the Starbound Staff at the Judges Table, during Awards presentations and will also be socializing with the various Studio Clients.
Should the National Title Winner feel comfortable they will be invited to briefly speak about their Title and Starbound's Ambassadorship Program, on stage, prior to Awards Presentations.
Your attendance at the competition will be for one (1) day only.

Can we help?
If you do not see the event you are looking for, please contact us.